This video covers the Behringer BCF2000 and how to install and configure it for use in Sonar. This is a somewhat older video, so no doubt the Behringer website has changed since I made it. You should still be able to find the appropriate drivers on their site, including 64-drivers now, so that part of the video may be out of date, but I believe the rest is still relavant.

Please note: If you are using Vista or Windows 7, you do not need the drivers from the Behringer site. When you plug it in, Windows will automatically detect it. There's still some other useful informaton in theis video, so don't just skip it. Buy Sonar X2 at Guitar Center Online.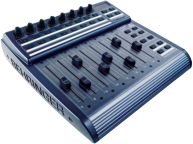 If you are on this page, your probably already know what the BCF2000 is or maybe already have one. If not, it's a great alternative to the Mackie Control. This motorized midi controller works with many different DAW recording software packages, making it easier and more fun to control the mixer and other elements in your DAW software, in this case Sonar.